NHAU1
-
Nursing Home Administration | Unit 1
1028608
Program Description
The role of the nursing home administrator is to manage the day-to-day operations of a nursing home. This is accomplished through planning and maintaining standards of care, supervising others, and providing leadership to all departments in the nursing home. By participating in this program, you will prepare yourself for the latest licensure examination topics while also prepare yourself for the complexities of becoming a nursing home administrator. The instructors share their expertise and experiences with you to help you immediately apply what you learn. We invite you to consider attending this highly respected program.
The Nursing Home Administrator program meets the State of Michigan's educational requirements for licensure. Upon successful completion of the program, you may apply for a license. The State of Michigan will match your application to the education verification that we submit directly to the State upon successful completion of this program and all our requirements. You will then be eligible to take the CORE and LOS examinations administered through the National Association of Long-Term Care Administrator Boards (NAB). The State of Michigan will verify that you passed the examinations and met all other requirements before issuing you a license. Please go to the LARA site for instructions on applying for your license. Link to LARA: https://www.michigan.gov/lara/0,4601,7-154-89334_72600_92411---,00.html
Please note: This program is for MI licensing only. Some participants that live near the Michigan border do attend and then work in a MI facility once licensed.
"One my favorite things about this program is working with the instructors. They are all from the industry, and they are currently working in their respective fields. Because of this, our instructors are able to bring a great wealth of knowledge to the students through discussion of current situations and how they have handled things in the past. They also give the students a really good idea of what the job will entail and how to be successful as a Nursing Home Administrator."

– Marcie Stowell, Program Director
"I found the course very beneficial. It was very rewarding. I took it in 2008 and it was just a great experience all around."

– Donald Haney (program graduate and now current instructor in the program)r
Outline
Session 1
Leadership: Leadership Roles and Styles
Session 2
Leadership: Preparing for the Profession of Nursing Home Administration and the Principles That Drive Operations (QAPI)
Session 3
Customer Care & Leadership: Keys to Continuing Success Year-to-Year
Session 4
Leadership: Understanding the Legal Environment Unique to the Industry
Session 5
Human Resources: Understanding Employment Law
Session 6
Human Resources: Knowing Your Labor Force & Developing/Growing Your Employee Team
Required Attendance
The Nursing Home Administration Program offers 144 clock-hours of instruction. To complete the program, participants must attend 128 clock hours (90%). The instruction is delivered in four units. There are 6 sessions per unit, for a total of 24 sessions in the program. You are permitted to miss 2 of the 24 sessions without penalty or additional work required. You may miss up to two additional sessions but will need to complete additional assignments to demonstrate that you understand the materials from those missed sessions. After that, you will need to repeat units in order to earn the certificate and to be eligible to sit for the licensure exam.
Key Learning Objectives
Each unit will cover one or more areas of the NAB Examination: Customer Care, Supports, and Services; Human Resources; Management and Leadership; and Environment.
Unit One (Starts in mid-September, 9 a.m. – 4 p.m. ET each Saturday)
Unit Two (Starts in late October, 9 a.m. – 4 p.m. ET each Saturday)
Unit Three (Starts in early January, 9 a.m. – 4 p.m. ET each Saturday)
Unit Four (Starts in mid-February, 9 a.m. – 4 p.m. ET each Saturday)
Exam Breakdown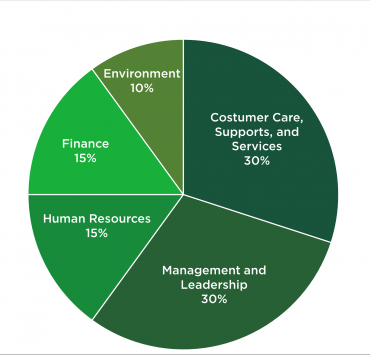 These learning outcomes will be achieved through faculty instruction, group discussions, and interactive exercises.
"I thought the Saturday classes were really convenient!"

– 2021 Program Graduate
Who Should Attend?
Anyone interested in nursing home administration and those individuals currently involved in health care administration who wish to review and update their skills in the field.
To register for the program, there are no educational requirements and there are no prerequisite classes. You do not need to have completed education past high school. Participants of all education levels have had success in our NHA program.
"My Administrator went through the course and had nothing but great things to say about it. He raved about it and I was very excited to register and start. I have not been disappointed. This is a wonderful experience."

– 2021 program graduate
Additional Information
This program is offered live, online.
In a live, online delivery, you will log into a web conferencing platform to participate in the program. You will interact with the instructor, the producer, and your fellow participants. The instructor is focused on delivering content to you in an engaging way. The producer is focused on helping you and the instructor with all technical aspects of the class as well as engaging with you using virtual tools, like Chat.
We recommend that you use a computer, laptop, or tablet during the program. We give you materials digitally, and they are easier to see and use on a bigger screen.
*If you haven't used Zoom before, we will walk you through how to log in and use the Zoom tools before you start your first session. All past participants have found that Zoom is very easy to use on their devices.
CANCELLATIONS
All cancellation requests must be made in writing. Cancellation requested greater than 15 days prior to the start of a program will be processed without a cancellation fee. In these situations, any payments made will either be returned or credited towards a future program. All credits must be used within one year of the date of issuance. Cancellations requested within 15 days prior to the start of the program will be limited to unexpected emergency situations and are subject to a cancellation fee. Participant substitutions are welcome at any time prior to the start of the program. If a registered participant does not attend the program and does not notify us in advance, the participant will be charged the full program fee.
HOW TO REGISTER
You can register right on our website using the Add to Cart button at the top of this page. This is a non-credit program, so you do not need to apply to Michigan State University as a student.
This program is composed of four units. You can start with any unit. To complete the entire program, you will need to register for and attend all four units. You may sign up for one unit at time or you may register for all 4 units at the same time. You do not need to start with Unit 1. But the units do need to be taken in order. You can start the program with the next available unit. For example, you could start with Unit 3 and then take Units 4, 1 and 2 in that order.
Please note that we cannot currently accept hours completed at another institution.
PAYMENT PLAN
An installment payment plan is available when you register for the series as a four-program
bundle
.
CONTACT
Have a question? Click here for Frequently Asked Questions and look for the NHA answers to the right of the screen in the third column. You can also contact us anytime at edp@broad.msu.edu or 517-353-8711.
Here are a few comments from prior participants:

Online classes made it very convenient and MSU has a great reputation for quality education.
The best live, online program I have ever participated in!
Very glad that my coworker mentioned this program to me, since I've been trying to enroll for the NHA program, but the travel is what usually hinders me to enroll.
I appreciated that the session was interactive and engaging.
The course was very well put together (both preparing and online logistics and the course materials, before and during the course).
Applies Towards the Following Series
Register Now - Select an offering to register in
Required fields are indicated by .